Book: We've all got Bellybuttons! by David Martin, illustrated by Randy Cecil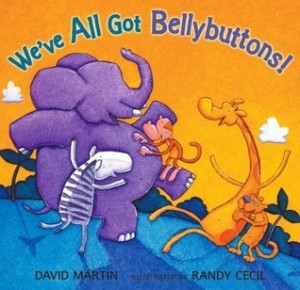 Song: "The Wheels on the Bus" including "The parents on the bus go tickle, tickle, tickle"
Rhyme:
Dance your fingers up
Dance your fingers down
Dance your fingers to the side
Dance'em all around!
Dance'em on your tummy
Dance'em on your head
Dance'em on your shoulders
And dance'em off to bed.
Rhyme: Roly poly every so slowly (roll arms)
Roly poly faster, faster, faster!

Book: Tickle Time! by Sandra Boynton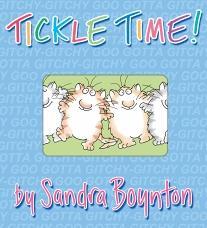 Song: "Baby's Hokey Pokey" – Georgiana Stewart: Baby Face
Rhyme:
These are baby's fingers, (touch child's fingers)
These are baby's toes, (touch child's toes)|
This is baby's belly button, (touch child's tummy)
Round and round it goes! (gently tickle child's tummy)
Song: Rickety rickety rocking horse
Over the hills we go
Rickety rickety rocking horse
Giddy-up, giddy-up, Whoa! (hug)

Book: Piggies by Don and Audrey Wood, illustrated by Don Wood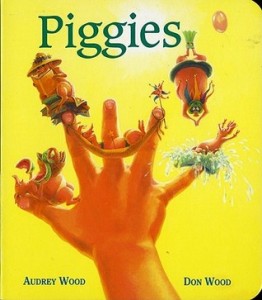 Rhyme: Pizza, pickle, pumpernickel
My little baby deserves a tickle! [tickle baby]
One for her nose, and one for her toes
And one for her belly where the hot dog goes!
Song (with shaky eggs): "Little Sack of Sugar" – Elizabeth Mitchell: You Are My Flower
Save