There are a lot of books, movies, and TV shows about superheroes. Who is your favorite superhero?
Book: Batman: The Story of the Dark Knight by Ralph Cosentino (I skipped the page about Batman's earliest years…)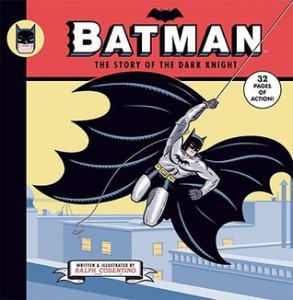 Song: "Jump and Fly" – Laurie Berkner: Rocketship Run
Book: Mighty Max by Harriet Ziefert, illustrated by Elliot Kreloff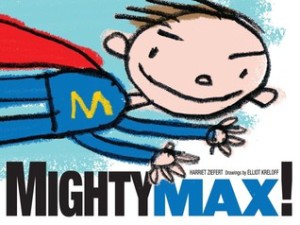 Rhyme: My Many Colored Capes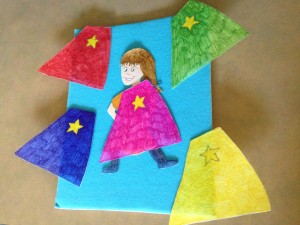 My cape of bravery
Goes over my head
It makes me feel bold
And its color is ________  (red).
My cape of honesty
Makes villains speak true
And chases out lies
Its color is __________ (blue).
My cape of fairness
Conquers those who are mean
It makes me feel strong,
And its colors is __________ (green).
My cape of calmness
Makes me feel mellow
It quiets the world
And its colors is __________ (yellow).
My cape of wisdom
Helps me to think
And solve tricky problems
Its color is ________ (pink).
My favorite cape
Give me a nice glow
Its all these great colorsIn a rainbow!
(Source: Carissa Christner, Madison Public Library)
Song: "Mi Cuerpo" – Hot Peas 'n Butter: Best of the Bowl
Book: Just One You by Lillian Jane, illustrated by Joe Mathieu
Song: "My Energy" – Laurie Berkner: Under a Shady Tree
Song: "Shake Your Body Down" – The Laurie Berkner Band: The Ultimate Laurie Berkner Band Collection
Craft: Magic color scratch superheroes