Book: The Sunflower Sword by Mark Sperring and Miriam Latimer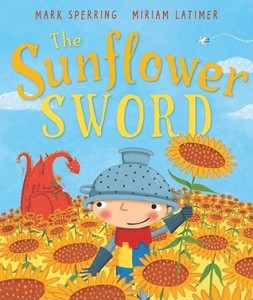 Song:  Going on a Dragon Hunt
Going on a Dragon Hunt, going to catch a big one,
I'm not afraid, What a beautiful day!
Uh-oh
Grass!
Long, wavy grass!
We can't go over it!
We can't go under it!
We've got to go through it!
Swish! Swish!
A forest!
A big, scary forest!
Clomp! Clomp!
A moat!
A deep, cold moat!
Splash! Splash!
Mud!
Thick, oozing mud!
Squish! Squish!
A cave!
A deep, dark cave!
Tiptoe! Tiptoe!
IT'S A DRAGON!
Quick, back through the cave!
Back through the mud!
Back through the moat!
Back through the forest!
And sit down, safely back in our seats.
 Book: The Foggy, Foggy Forest by Nick Sharratt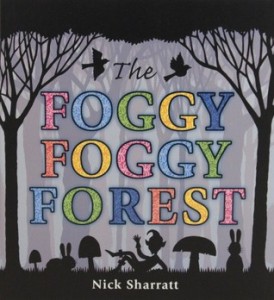 Song:  Castle Capers
I am the king of running,
I run and run and run.
My subjects all run with me,
And we have so much fun!
I am the prince of turning,
I turn and turn and turn.
My subjects all turn with me
It's an easy thing to learn!
I am the princess of dancing,
I dance and dance and dance
My subjects all dance with me
And dance when they get the chance!
I am the Queen of jumping,
I jump and jump and jump.
My subjects all jump with me
And sit down with a bump.
(Source: Delta Township District Library Storytimes blog)
 Book: King Bidgood's in the Bathtub by Audrey Wood, illustrated by Don Wood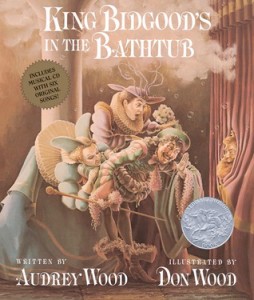 Flannel: Queen Elsa's Crowns (Tune: "Mary Wore Her Red Dress"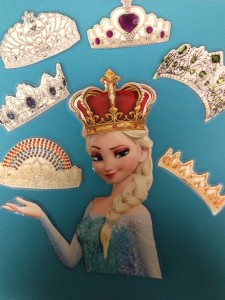 Queen Elsa wore her purple crown, purple crown, purple crown.
Queen Elsa wore her purple crown every Sunday!
(repeat with different crowns and days)
(Source: Miss Sarah Storytime blog)
Song: "Shake Your Body Down" – The Laurie Berkner Band: The Ultimate Laurie Berkner Band Collection
Craft: Coloring paper crowns with shiny hearts and stars for jewels