Book: Pirate Nap by Danna Smith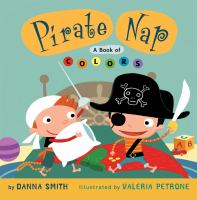 Song:
A pirate went to sea, sea, sea
(move hands in curving motion to show ocean waves)
To see what he could see, see, see
(place hand above eye and look around)
And all that he could see, see, see
(place hand above eye and look around)
Was the bottom of the deep blue sea, sea, sea
(move hands in curving motion to show ocean waves)
Book: Pajama Pirates by Andrew Kramer
Song: Pirates Wear Patches flannel activity and rhyme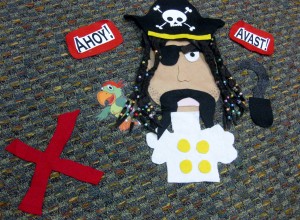 Pirates wear patches
and on their hand, hooks
Pirates love to mismatch
And give dirty looks
Pirates wear white shirts
with big puffy sleeves
Pirates are scoundrels
And rascals and thieves!
Pirates wear black hats
with a skull and cross bones
Pirates yell "Avast"!
And "Ahoy, thar she blows!
Pirates have long hair
they decorate with beads
Pirates aren't rare
When you're sailing the seas!
Pirates have a pet bird
and tie the best knots
Pirates are quite absurd
X marks the spot!
(Credit: Miss Meg's Storytime)
Song: "Shake Your Body Down" – Laurie Berkner: Party Day
Puppet Show: Peg Leg Pup
Movie: Timmy Time: Timmy Finds Treasure