Sign language for fall
Book: Mouse's First Fall by Lauren Thompson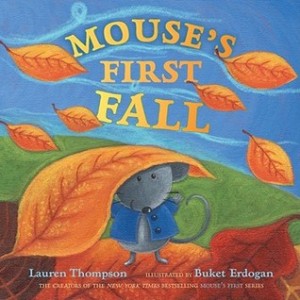 Song: "Autumn leaves" (Tune: "London Bridge")
Autumn leaves are in the trees…All over town.
Autumn leaves are falling down…All over town.
Autumn leaves are whirling round…
Everybody rake them up…
Rhyme: Way up high in the apple tree (stretch arms up high)
Two red apples smiled at me (hold up two fingers)
I shook that tree as hard as I could (make a shaking motion)
Down came the apples… (make a downward motion)
And mmm, they were good! (smile and rub stomach)
Book: Welcome Fall by Jill Ackerman, illustrated by Nancy David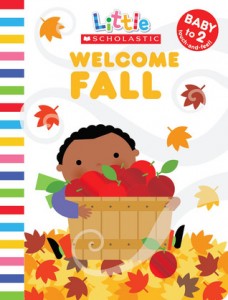 Flannel: Five Red Apples (I used names of kids in the storytime)
Five red apples in a grocery store
Bobby brought one home and then there were four.
Four red apples on an apple tree
Susie ate one, and then there were three.
Three red apples. What did Alice do?
Why, she ate one, and then there were two.
Two red apples ripening in the sun.
Timmy ate one and then there was one.
One red apple and now we are done
I ate the last one and now there are none!
Song: "Clap your Hands" – They Might Be Giants: Here Come the ABCs
Book: Duck and Goose Find a Pumpkin by Tad Hills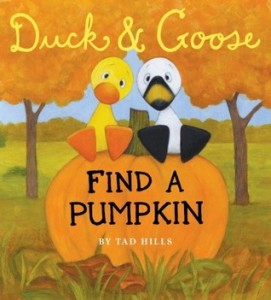 Song: "Pumpkin, Pumpkin" (Tune: "Twinkle, twinkle")
Pumpkin, pumpkin on the ground, (touch the ground)
How'd you get so big and round? (make a big circle)
Once you were a seed so small, (pinch fingers together)
Now you are a great big ball! (make a big circle)
Pumpkin, pumpkin on the ground, (touch the ground)
How'd you get so big and round? (make a big circle)
(Credit: Step by Step Childcare)
Song: "Pig on Her Head" (alternate version) – Laurie Berkner: The Best of the Laurie Berkner Band
Song: "Monkey Dance" – The Wiggles: Yummy Yummy
Song: "Walking, Walking" – Old Town School of Folk Music: Songs for Wiggleworms
Song: "Icky Sticky Bubble Gum" – David Landau: Kids and Kitties
Craft: Pumpkin shape cut out of paper, with different orange strips of paper glued to the back (inspired by mermagblog.com)