Sign language for cookie.
Book: Who Ate All the Cookie Dough? by Karen Beaumont, illustrated by Eugene Yelchin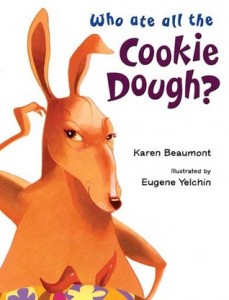 Rhyme: Making Cookies
I am making cookie dough. (hold out arms in a circle, like a bowl)
Round and round the beaters go. (roll hands)
Add some flour from a cup. (shake a pretend cup)
Stir and stir the batter up. (stirring motion)
Roll them, cut them nice and neat. (rolling pin motion)
Put them on a cookie sheet. (place pretend cookies)
Bake them, count them 1-2-3. (counting motion)
Serve them to my friends for tea. (take a bite!)
(Credit: Sunflower Storytime)

Flannel: Five plates of cookies – I can't bake any more!
Give one away, and now there are four.
Four plates of cookies, colorful to see;
Give one away, and now there are three.
Three plates of cookies, shall I give one to you?
I think I will, and now there are two.
Two plates of cookies for holiday fun.
Give one away, and now there is one.
One plate of cookies left, as you can plainly see –
That is the one I'm taking home with me!
(Credit: Geri Ceci Cupery – E.D. Locke Library)
Song: "Bodies 1-2-3" – Ellen and Peter Allard: Sing it! Say it! Stamp it! Sway it! vol. 2
Book: Who Took the Cookie from the Cookie Jar? by David Carter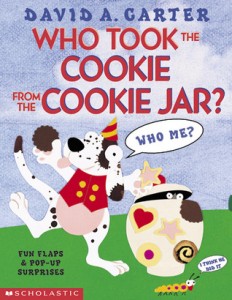 Rhyme: Homemade Gingerbread
Stir a bowl of gingerbread,
Smooth and spicy brown.
Roll it with a rolling pin,
Up and up and down.
With a cookie cutter,
Make some little men.
Put them in the oven,
Till half past ten.
(Credit: canteach.ca)
Song: "Monkey Dance" – The Wiggles: Yummy Yummy
Song: "Icky Sticky Bubble Gum" – David Landau: Kids and Kitties
Song (with jingle bells): "Jingle Bells" – Kimbo Educational: Where is Thumbkin?
Craft: Gingerbread man coloring sheet