Sign language: Bug
Book: I Love Bugs! by Emma Dodd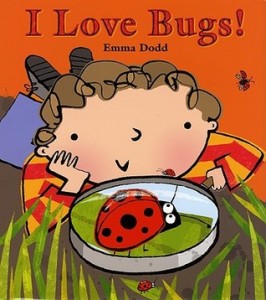 Song: The Itsy-bitsy spider
Rhyme: Pizza, pickle, pumpernickel
My little baby deserves a tickle! (tickle baby)
One for her nose, and one for her toes
And one for her tummy where the hot dog goes!
Song: "On my Toe there is a Flea" – John Martin Feierabend: Frog in the Meadow
Song: Let's Tap our Feet Together (Tune: "The More We Get Together")
Let's tap our feet together, together, together,
Let's tap our feet together, because it's fun to do.
Let's clap our hands….
Let's touch our nose…
Let's touch our ears…
Book: Caterpillar's Wish by Mary Murphy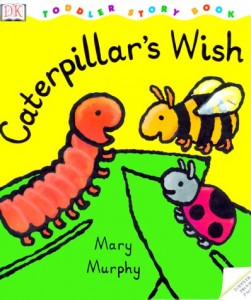 Song: Caterpillar Caterpillar (Tune: "Are You Sleeping?")
Caterpillar caterpillar (Wiggle fingers of one hand)
In the tree, in the tree (Spread arms like branches)
First you wiggle this way (Wiggle hand left)
Then you wiggle that way (Wiggle hands right)
Look at me, look at me (Point to self)
Credit: Mel's Desk
Song: Ants go marching
Puppet/Song: Bumblebee, bumblebee (Tune: "Jingle Bells")
Bumblebee, bumblebee
Landing on my nose,
Bumblebee, bumblebee,
Now he's on my toes.
On my arms, on my legs, on my elbows,
Bumblebee, oh bumblebee,
He lands and then he goes.
Rhyme: Great A, little a
Bouncing B,
The cat's in the cupboard,
But she can't see me.
Book: Snappy Little Bugs by Claire Nielson and Dug Steer, illustrated by Derek Matthews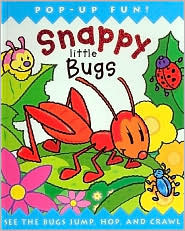 Song (shaky eggs): "Crazy Blue Beetle" – Caspar Babypants: Hot Dog!